For a while now I have been aware of my lack of knowledge of wine. For the most part my consumption of alcohol has been limited to beer and spirits - mostly Scotch and Bourbon. Wine is a little daunting… perhaps its the culture, the number of types and brands or maybe its just that you don't want to be associated with some "wine snob".
Lately, I have taken the plunge into trying red wine. One of the advantages of wine is that relatively cheap and depending on the day of the week, good for you (red wine at least). So basically I've resolved to trying a bottle every so often to get a feel.
So what have I tried so far? So far I've tried two Pinot Nior red wines. First one was a 2008 Monkey Bay and the second one (pictured) was a 2009 Jacob's Creek. Both were about $15 a bottle and went down fairly nicely. Of the two, I found the Jacob's Creek slightly easier to drink.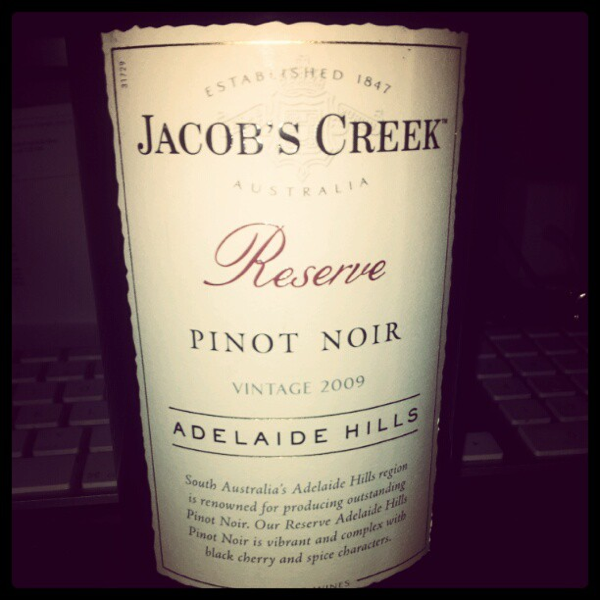 So where to from here?
My plan is to try a few more Pinot Noir's and at the same time try and find out what the next step is….
On a completely unrelated note, I have also dived into Instragram lately and am finding it incredibly easy and natural to use. I think it's the simplicity… just take a photo, do something funky with in using a filter, share with Instragram and optionally other services. You may have guessed that the photo above is taken with Instragram ;-)