redbook.me is a new and simple way to build rosters and manage the availability of your staff. It's light-weight, web-based and cloud hosted (so you don't have to install anything!). redbook.me frees you from the hassle of spreadsheets and paper rosters.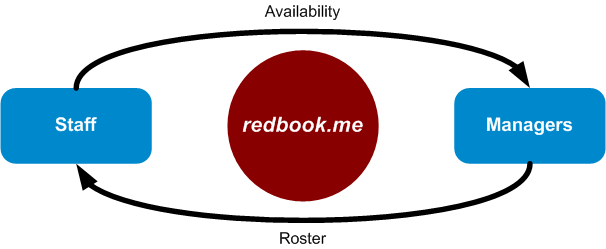 Features
Simple roster interface
Manages staff availabilities
Mobile version for staff to get their shifts on the run
Email/SMS notifications
Shift swapping suggestions
Automaticall import shifts into any calander app (like iCalender or Outlook)
How much does it cost?
Pricing starts at $AU 15 / month for 1 store or site.
To get access to a free 2 month trial, click here
Got heaps of stores? Let's have a chat
What about support?
Support for you and your staff is available from within the redbook.me web app. We use a service called Uservoice to respond to support tickets and field any comments or ideas (that are more than welcome ☺).
Why redbook.me?
The name? Well it all started when I used to manage a small pizza shop where we used a red book to organise when staff would be available. It was clumsy and staff were forever forgetting to write in their availability. So I built a website to help me and that's where redbook.me came from!